AL-ISLAAH PUBLICATIONS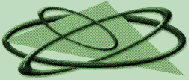 Get your accurate Qibla direction(Without a Compass)


___________________________________________________
GET YOUR ACCURATE QIBLA DIRECTION

(WITHOUT A COMPASS)

by Khalid Shaukat

The Most Accurate Method
It is not advisable to determine the Qibla specially for a Masjid using an ordinary compass. The following method which uses the sun is more reliable and accurate. It has been observed for centuries and reported in many books by Muslims around the world that two times a year the sun comes overhead above Ka'bah. This is observational fact for centuries, and is used to set the correct Qibla direction in places far from Makkah by Muslims for last so many centuries.
Those two dates and times are:
May 28 at 12:18pm Local Civil Time at Makkah
July 16 at 12:27pm Local Civil Time at Makkah

When you observe the sun at these times (after converting it to your local time, see Table below), you will be facing the Ka'bah giving you Qibla direction, because if there were a very high minaret over Ka'bah reaching up to the sky, then you will see it just like you are seeing the sun. Now, let us take a few examples.
If you are in Islamabad, Pakistan (+2 hours time difference from Makkah time), the local time to observe the sun would be 2:18pm on May 28, and 2:27pm on July 16.
Similarly, if you are in Nova Scotia, Canada (-6 hours time difference from Makkah time), the local time to observe the sun would be 6:18am on May 28, and 6:27am on July 16.
The following table provides the local time for several countries when one can face toward the sun to determine the Qibla on those two dates. Consideration has been given for Daylight Saving Time in countries that observe it during summer (marked *).
Countries with several time zones have been listed with major cities in different time zones. In North America (cities shown in color) the sun can only be seen in Northeast corridor from Providence, RI to Montreal, Quebec.
For other cities in North America, the sun is not visible at noon time of Makkah, however, in those cities the sun rises a few hours later. By looking at the rising sun, one can estimate where the sun was a few hours earlier to give an approximate Qibla direction.
Local Time facing sun gives Qibla

PLACE

May 28

July 16

Afghanistan

13:48

13:57

Bangladesh

15:18

15:27

Bosnia

11:18*

11:27*

Burma

15:18

15:27

Canada, Montreal

15:18*

5:27*

Egypt

11:18

11:27

France

11:18*

11:27*

Germany

11:18*

11:27*

India

14:48

14:57

Indonesia,Jakarta

16:18

16:27

Iran

13:48*

13:57*

Malaysia

17:18

17:27

Pakistan

14:18

14:27

Palestine

12:18*

12:27*

South Africa

11:18

11:27

United Kingdom

10:18*

10:27*

* means that these times are local Daylight Saving Times as observed in those countries.
FOR EXAMPLE: In South Africa on July 16 at 11:27 am or on May 28 at 11:18 am,the 'SHADOW' the sun casts on an object('stick') will be in the direction of the Qibla.
Illustration: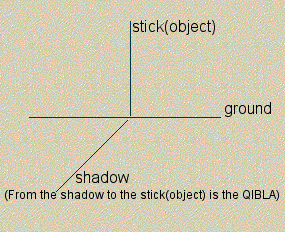 Khalid Shaukat is a consultant to ISNA, Fiqh Council Of North America, and Shura Council of North America for the matters of Qibla Direction, Prayer Times, and Moonsighting.
He has specialized in physics, mathematics, computer programming, and computational astronomy, he is actively doing research work for over 2 decades on Moonsighting, Islamic Calendar, Prayer Schedule, and Qibla Direction serving Muslim Ummah all across the world. He has provided Salaat Schedules, Qibla Directions, and Moonsighting information to over 178 countries (over 2500 cities) in the world including polar regions (Norway, Sweden, Finland, and Alaska), where sun does not rise or set for several months. Several masjids in USA, Puerto Rico, and Canada have been built with his help,setting masjid orientation's in the proper Qibla direction.
If you need
Qibla direction
, send your request to
Khalid Shaukat
with your city name.